Wil and I don't have another weekend off until the end of July, so we decided to really make this weekend count. Seriously, we did ALL THE THINGS. There was not a moment wasted during the last forty-eight hours. I've been teaching husband how to drive (he has his license, but never really did anything with it being a city boy) and he got us all the way to Whole Foods to buy provisions for a picnic in Northern Liberties.
Remember
those adorable pups
we were watching last week? Well, their people thanked us for watching them by giving us tickets to a Phillies game. Wil drove us down to the stadium (so proud of my boo and his driving, if you couldn't tell) and we did what baseball fans do - drink beer (cider for us) and eat awful (yet, gluten-free) food. When in Rome, y'all...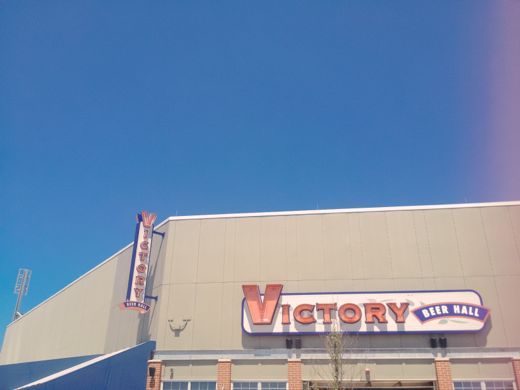 I'm not mad at the pink hue my new iPhone case has been casting on all my photos.
He even drove us over to Memphis Tap Room (which has a really nice beer garden).
Sunday was really exciting because it was the opening weekend for
Brooklyn Flea Philly
! We went early to beat the crowds, but apparently, that was everyone else's idea, too. We skipped out of there rather quickly to visit, yet another beer garden - this time at Silk City in Northern Liberties. We finished out the day playing pool at El Bar and dancing (for the first time in almost a year) at Blurr in Old City. Told you, not one wasted minute. Back to the grind for the next seven weeks.