Please enjoy this little guest post from Sarah of Desirous of Everything.
Hi, Danfredo readers! My name is Sarah and I blog over at
Desirous of Everything
. I'm so excited to be guesting on Danielle's blog while she is off eating, drinking and being married! In the spirit of love, I thought I'd share with you all the story of how I met my husband, Alex. I'd love to hear about how you met your true loves, readers, in the comments!
Congratulations Danielle and Wil!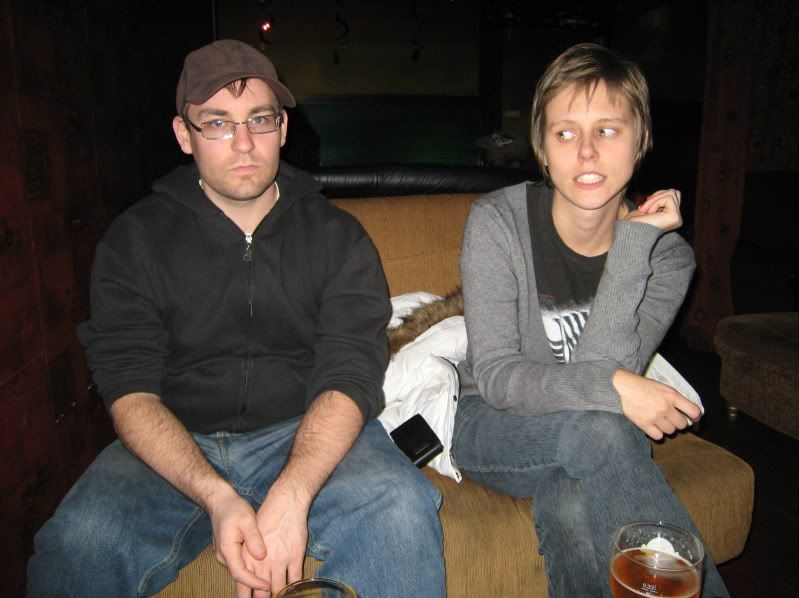 This is the oldest picture I could find of the two of us from 2006. Isn't that sad? None of us ever used to take pictures in the early 2000s! I LOVE this picture though.
This is how I remember it at least. I was living with my close friend Shina the summer of 2003 and we were having the time of our lives. We were 21 years old and always up to go out to the bar together or go swimming or watch episodes of Sex and the City or Mr. Show. So when Shina told me he was going to hang out with his friend Alex during his late night radio show (11PM-2AM) of course I wanted to tag along.
This became a weekly ritual for us and I found myself with a new friend. A sarcastic and dry witted boy who had cute side burns,dark rimmed glasses, a really good laugh and intimidatingly good taste in music. What else would you expect from someone whose college radio show was called Andy Warhol Sucks A Big One?
Suddenly we were all hanging out more than just during the radio show, Alex would come along to go swimming or to the movies, and I noticed when I hugged him goodbye that he smelled a little like baby powder and it made me want to keep on hugging him.
That summer though, we really were just friends. I knew I liked this friend a lot, he felt like a new best friend to me and we saw each other almost every day. Sometimes without Shina joining us. But he had a girlfriend in Texas where he would be moving at the end of the summer, and I was leaving to go to Ireland for a semester in the fall anyway. My first semester of senior year. So in my mind I thought we'd have an amazing summer and then keep in touch forever as close friends, best friends even, and I was happy with that idea.
The day Alex left to move to Texas I gave him a picture of us and two huge bags of muffins and cookies from the coffee shop I was a baker at for the long ride from Massachusetts to Texas. Alex was driving down with his mom, who told him that it was obvious that I liked him when she saw the bags of treats I had prepared- I guess at that point, she was the only one not in denial.
When I finally made it to Ireland, (where I ended up having a romance of my own.) Alex and I kept up through email. The emails were emails to friends, nothing really romantic about them at all, except for the fact that Alex is a really good writer, and I sort of tend to fall in love with writing (Holden Caulfield was my first literary boyfriend after all) and I started to fall in love. He was wooing me with his vocabulary and I don't think he even realized it.
I cut back on the emails, because I was having this once in a lifetime experience of crushing out on a friend thousands of miles away, while falling in love with an in the flesh Irish boy who was right in front of my face. (Sounds like a good YA novel doesn't it?) And plus, Alex still had that girlfriend.
Fast forward to November of 2005. I've graduated from college. I'm living in Northampton Massachusetts, working at a shitty clothing store, totally broke and feeling like I've dated the entire 20 something population of the town. Alex and I have completely lost touch. I am miserable. I don't know what I want to do with my life. I watched the movie Dancer in the Dark and felt even gloomier, and for some reason, this movie reminded me of Alex (he is slightly offended by this) so I emailed him.
New correspondence begins. Alex breaks up with the girlfriend. We are both miserable in our lives and the one thing that brings me joy every single day is the hours long conversations we have with each other. We are still friends, but have both admitted that we like each other. At this point, we have fallen in love with each other but are afraid to say it over the phone.
In January of 2005 I move to New York City all by myself. With $2,000 in my checking account and an acceptance letter to the library science program at Pratt. In March, Alex visits me. It's the first time we've seen each other in almost 2 years and this is when it officially happens. We are in love, we love each other and say it out loud. I meet Alex on my block when he first comes from the airport, and we literally run to each other and kiss in the street. Yes, this stuff does happen in real life. Can you believe it?
Alex moves to NYC in April, we move in together in July and the rest is history. This March with be our 7th year anniversary of that first kiss. And he still smells a little bit like baby powder.